---
---
Henry Niese
GOYOMAC
Henry "Wild Goose" Niese
of
Eagle Voice Center


Henry Niese is an artist, teacher, and founder of the Eagle Voice Center. The Eagle Voice Center is a place for traditional teachings and following ancient native American teachings embodied in the sayings-This Earth is Sacred and All My Relations. We believe that the Earth, the Universe, and all that is in it was created in a sacred manner by the supreme being, Great Spirit, God Almighty and that it is our duty to learn to understand and respect its sacredness, that we are relatives to all of existence, humans, animals, plants,rocks and the spirits of those who have gone before. This is the teachings of the Grandfathers. So be it.
---
Background

Henry Niese is a painter and photographer. For the past fifteen years, his creative activity has been directed toward the making of on-site ceremonial structures inspired by Native American culture.
He learned the American Indian traditional medicine way through experience from several medicine men. His two principle teachers were Turkey Tayac, chief and medicine man of the Piscataway of Maryland, and Bill Eagle Feather, Sun Dance chief and medicine man of the Sicangu Lakota (Brule Sioux). They are both gone now, and Henry is carrying on their teachings.
Henry has participated in sixteen Sun Dances on the Rosebud Sioux Reservation in South Dakota, dancing four days, piercing, and giving flesh in all. In the 1990 Sundance he made one of the most difficult sacrifices, known as the Four Winds Pierce.
Henry Niese
"The old timers say, 'Maka kin le Wakan - This Earth is sacred'.
I believe this, so I try to walk lightly on Her. I was raised a skeptic, and still believe in a healthy skepticism, but I have been convinced in my vision quests and experience of the healing power of the Great Spirit, the Sun and the Earth. When my Uncle Bill commanded me to pray to the plants so they would tell me the nature of my healing powers. I was terribly skeptical. When it actually happened I was devastated and humbled. As Uncle used to say - I am a learner, still trying to learn."

Henry Niese is a graduate of the Cooper Union and Columbia University, New York City. He was art professor at the University of Maryland for 26 years and is now retired. His paintings are in several public collections, including the Whitney Museum and the national Museum of American Art. One of his short films is in the collection Filmkundliches Archiv fur Sozialwissenshaftliche und Kulturelle Fragen in Cologne, Germany.

He has been guest fellow at Yale University, teaching a seminar contrasting Native American and European beliefs, "Problems of Perception in Two Cultures". He is of Cherokee heritage.

He welcomes the chance to teach others what he has learned.
---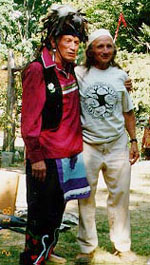 Henry's friend Ted Williams, a Tuscarora Wisdom Keeper in traditional Tuscarora 6 Nations outfit.
For Brother Ted
(A Tuscarora wise man side man)
What's to become of us?
Seven decades went by so fast
I hardly knew they were gone.
Your busted face and chops are heavenly
When you groove on Symphony Sid,
Singing a third above me.
I love you bro - so much
That maybe when the Creator takes us Home
We'll meet, and scat sing our way to Heaven.
---